Gaten Matarazzo's Les Miserables performance schedule has been posted at his Facebook fan page. Be sure to take a look!
Mia Sinclair Jenness (Les Miserables) was featured on NorthJersey.com for making her Broadway debut at the age of 8! You can read the article HERE.
You can buy $31 rush tickets to Love and Information at NYTW! You can buy these tickets the day of each performance at the Minette Lane box office.
Colin Critchley (Waiting for Godot) has been cast in a reading for A Room of My Own. Congratulations, Colin! You can find more information about the reading at Playbill.com.
Luca Padovan (Newsies) was interviewed by Kidsday at Newsday a little while ago and you can read a transcript from the interview at Newsday.
And here is a picture of Alex Ammerman and Grayson Taylor with their Mothers and Sons castmates and some cast members from Bullets Over Broadway.
tell a friend :: comments 0
D'Andre Lee joins the cast of Kinky Boots as the Young Lola s/b while Douglas Baldeo has been bumped up to Young Lola. Congratulations to both kids! I found a video of D'Andre singing at the Apollo Theatre down below.
A new installment of "Looks Not Books" is now up on Broadway.com and it features the graduating and new Maggots in addition to the official introduction of the Newtildas. Watch at Broadway.com.
And here is a picture and video from Teshi Thomas (The Lion King)
tell a friend :: comments 0
Jaden Jordan has departed the company of Kinky Boots. Happy trails, Jaden!
Here are pictures from the kids of Newsies, Les Miserables, A Raisin in the Sun, The Lion King, Appropriate, and Matilda!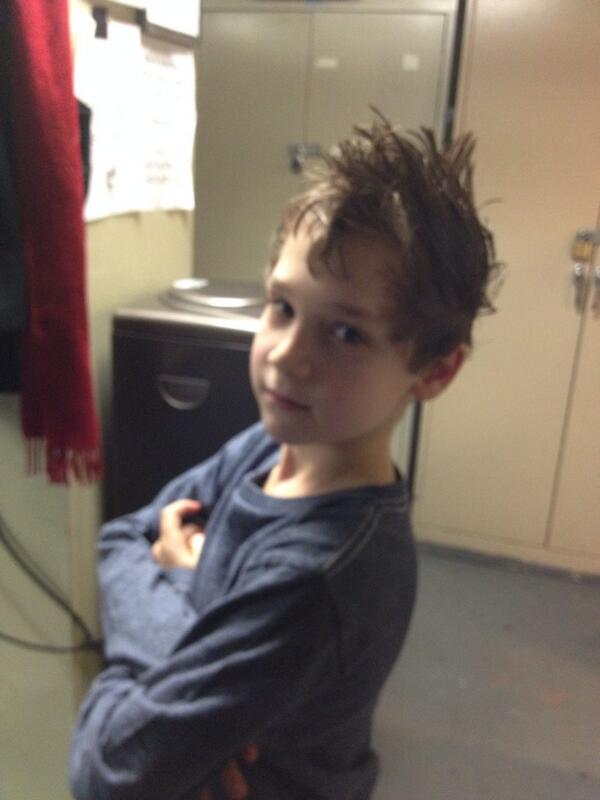 tell a friend :: comments 0
Tonight, A Raisin in the Sun begins previews. Break a leg to the entire company!
On Thursday, March 13th, the cast of Les Miserables will perform on "Good Morning America"! We're not sure which kids are performing, but set your DVR's!
Roundabout Theatre Company posted more pictures from the Violet sneak peek party on their Facebook fan page. Take a look! You can also find more video from the party at BroadwayWorld.com and pictures over HERE.
Press pictures for Mothers and Sons have been released! You can view those at BroadwayWorld.com.
Here are some pictures from the kids of A Raisin in the Sun, Waiting for Godot, Disaster!, The Lion King, Matilda, and Violet!
tell a friend :: comments 0
Exciting news! A new revival of Fiddler on the Roof is coming to Broadway fall 2015! We are SO excited!
Luke Niehaus has been cast as 6 year old Ethan in The City of Conversation at LCT. Congratulations, Luke!
I found more press from the Violet sneak peek. You can find video from Playbill.com down below.
Raymond Luke Jr. (Motown) sang the National Anthem at a recent Pacers vs. Bobcats game. Watch below!
Fun Home is currently #2 on the Billboard cast album chart. If you haven't gotten your copy, go get it!
Oona Laurence (Matilda) has booked a role in the upcoming film "I Smile Back". Congratulations, Oona!
The Easter Bonnet Competition will be held Apr. 21-22 at the Minskoff Theatre! This event lets Broadway, Off-Broadway, and touring companies present skits and is the end of a fundraising period (for BC/EFA) for participating companies.
And here are pictures from the kids of The Lion King, Waiting for Godot, and Mothers and Sons!
tell a friend :: comments 0